Cloud computing is not anything new. With the emergence of this concept, you can now store and access your files and documents securely from a remote relocation. However, with so many options to choose from, settling for a particular file hosting platform can be a tough call. This Daofile premium account review highlights one outstanding cloud storage platform that you should consider for your file-hosting needs.
What is Daofile.com?
Daofile is a file storage solution that allows web users to upload, manage, share, and download their data securely and conveniently from a remote location. Essentially, you do not need any physical storage devices to upload your data. Daofile provides you with virtual servers where you can keep your sensitive data, documents and large files without worrying about their safety.
What's more, is that you can easily access your files from any compatible device so long as you have a stable internet connection. The best part is that it is free to join, but it is advisable that you sign up for a Daofile.com premium account to benefit from additional features that might prove useful, especially when managing large files.
Getting started with Daofile
Signing up with Daofile.com is relatively simple. In fact, you do not have to pay anything. Moreover, you can register from anywhere in the world, considering that this platform accepts subscribers from around the globe. However, you must be at least 18 years old to use this service.
To open a free account, you just need to enter your email address, create a password, and agree to the Daofile Terms of Service. You also need to check the reCAPTCHA box to confirm that you are not a robot. Once you complete the registration process, you must verify your email address to activate your free account.
Nevertheless, as with any other free file-hosting account, Daofile restricts members from accessing some of its services. For this reason, it is only logical that you upgrade your account to enjoy unlimited file hosting services.
User Interface
The Daofile user interface is simple, but somehow confusing to new members. Apparently, the website does not have easy access links or menus to crucial pages such as the sign-up page. Essentially, one has to type the link in the URL box to access the page that you want. For instance, you have to type "Daofile.com/?op=registration" to go to the account creation page.
In addition, you cannot go to the members' dashboard unless you verify your email address. This is also inconvenient, especially if you are having trouble logging in into your email account.
What is more alarming, it the Daofile.com website is only available in English. The fact that web users cannot use their preferred language is a big inconvenience considering that not all members are conversant with the English language. This might limit your ability to manage your files effectively if you do not understand the language.
How to operate a Daofile account
You need to log in into Daofile.com in order to operate your account. The good news is that the members' dashboard is very easy to use. It has several menus that make it easy to operate the account.
Notably, the Daofile platform allows you to upload nearly all types of files, including, videos, music, images, contact data or even your personal documents as long as they do not contain prohibited content. All you have to do is to click on the "My Files" section to begin uploading your documents.
As with other cloud storage platforms, you may upload your files using three different methods. These include:
Browser Upload
Browser upload allows members to upload files directly using their web browser. Interestingly, you just need to drag and drop the files you want to upload onto the open Daofile page. Alternatively, you may select "upload files now" button to choose the files that you want from your computer's directory. From the look of things, browser upload is one of the easiest ways of storing small files and documents.
FTP Upload

File Transfer Protocol is another method you could possibly use to upload files on Daofile. However, this method requires some basic skills in computing, considering that it is somehow complicated. Furthermore, one has to install a special program known as an FTP client to upload your files using this option.
Besides, you also have to select an FTP server where you will transfer your files. Preferably, the server that you choose should have the lowest load for you to upload your files quickly and conveniently.
Nevertheless, as complicated as this option might seem, FTP upload is the fastest. For this reason, it is ideal for uploading large, heavy files.
URL Upload
URL upload sometimes referred to as remote upload is another option that allows registered users to upload files using a remote device other than the localhost. In essence, the user has to provide a link to the location of the file that they want to transfer from a remote computer. This comes in handy if the host computer network is too slow.
Is Daofile.com safe?
Daofile.com is relatively safe. For starters, the platform has an SSL certificate, meaning that the site encrypts all communication between users and the main server. The encryption of data covers file transfers, and payment transactions, making Daofile one of the most secure file hosting platforms around.
Most importantly, one cannot access your uploaded files on this platform unless you share them. Essentially, you have to share out your link for other people to access your files. This security measure adds another layer of protection to your files, giving you the peace of mind that you deserve.
Daofile Free Account
As with most file hosting platform, signing up with Daofile.com is free. However, with free membership comes limited access. Apparently, free account users have to wait for about 30 seconds before they can download files. In addition, Daofile caps upload/download speeds at 60 KB/s. These speeds are very slow, and might prove inconvenient especially if you want to transfer large, heavy files.
As if that is not enough, free membership does not have download resume. This means that you may have to start your download afresh in case of network interruptions. Besides, you may only download one file every 3 hours, meaning that one can only transfer up to 8 files in a 24-hour window!
You also have to put up with annoying ads every time you download a file. Apart from that, you have to enter a Captcha code before your download can start. Considering all these restrictions, upgrading to a Daofile premium account seems to be the only viable solution.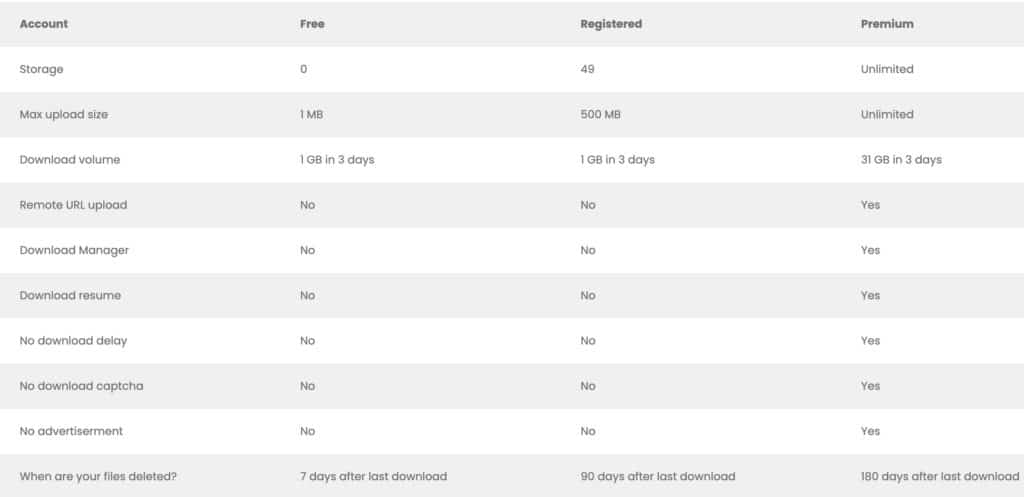 Daofile Premium Benefits
Daofile premium offers encrypted anonymous downloading, extended storage, premium download channels, and unlimited file size.
Here are some of the features one should expect from Daofile premium:
Unlimited Download Speed
While free members can only download files at 60 KB/s, premium members enjoy unlimited download speeds. However, the speed will entirely depend on the bandwidth offered by your internet service provider.
No Captcha and Ads
Premium members do not have to enter any Captcha codes when transferring files. In addition, you do not have to put up with irritating ads when downloading files.
Instant Downloads
Daofile premium supports instant download. Essentially, you do not have to wait even for a second before you can start downloading your files.
Parallel Downloads
Another benefit of premium membership is the simultaneous downloads. This means that you can download multiple files at the same time without any delays.
Download Resume
In case of any network interruptions, you may resume your download from where it left without having to restart afresh.
Download Manager Support
Daofile premium supports third-party download managers such as Download Accelerator. Using a download manager speeds up the transfer process and saves time.
Encrypted Anonymous Downloading
With Premium, you can download your files anonymously. In addition, Daofile will encrypt your download connection to keep hackers at bay.
Reserved Premium Download Channels
Another benefit of Premium is that you get to transfer your files using reserved download channels
Daofile Premium Rates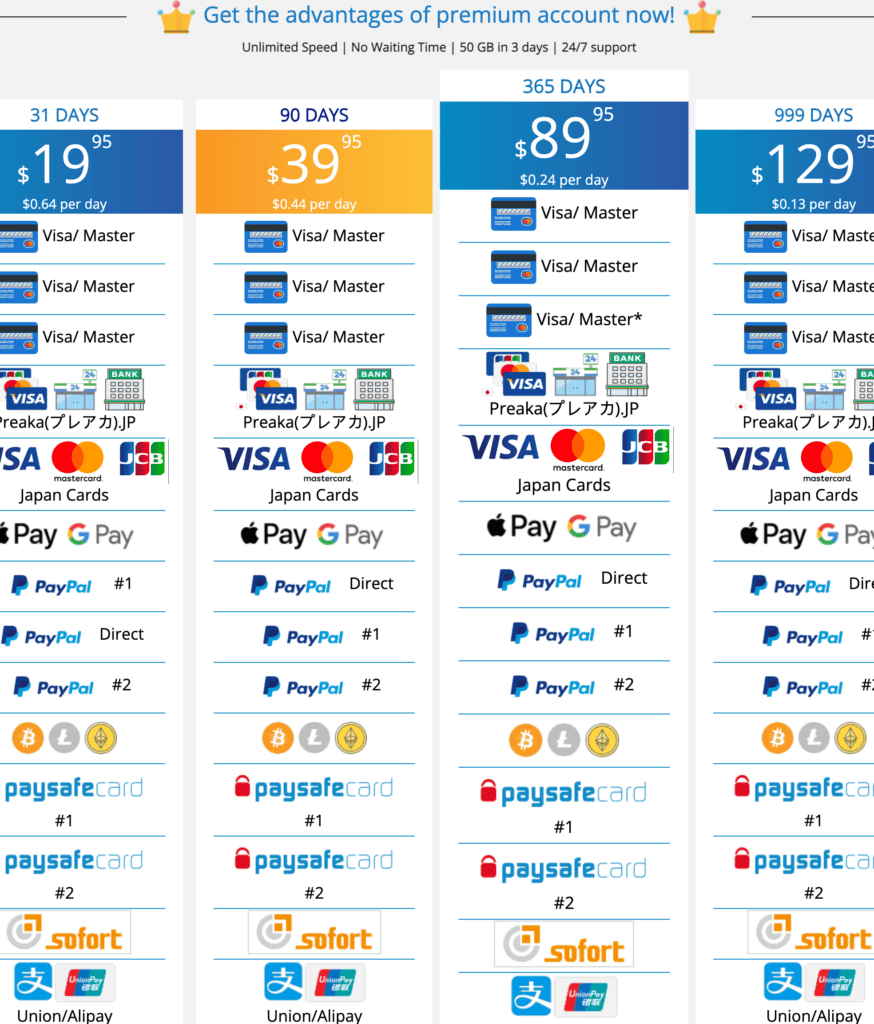 Accepted payment options include
Alipay
PayPal
Webmoney
Bitcoin
Bank transfers
Major credit cards
Daofile.com also has a refund policy. You may use this policy to claim for a refund in case the services on offer do not meet your expectations. You may also cancel your subscription at any time by sending an email to the support team.
Does Daofile.com have any downsides?
Daofile.com has very few shortcomings. Firstly, the website is only available in English, unlike other platforms that offer their services in different languages. Secondly, the customer support offered by Daofile leaves a lot to be desired. Apparently, they are too slow when it comes to answering queries. Nevertheless, Daofile.com makes up for its shortcomings by offering excellent and secure file hosting services.
Conclusion
Daofile.com strives to provide its members with exceptional file storage services regardless of whether you are a free or premium account user. However, free members are somehow limited when it comes to enjoying crucial services such as download resume, multiple transfers, and encrypted anonymous downloading, among others. Considering this, it is only logical that you sign up for Daofile premium to benefit from unlimited services.